Dear Ismaili Health Professionals,
We hope this email finds you all in good health. The Ismaili Health Professionals Network is a resource and networking platform for individuals working in healthcare including licensed and unlicensed healthcare professionals, public health professionals, healthcare administrators, healthcare researchers, and students. Our commitment to registrants is ensure all registrants receive up to date information on volunteer opportunities with the Aga Khan Health Board for Canada (AKHBC) and upcoming local, national and international events and activities.
We would also like to thank all registrants for registering with Ismaili Health Professionals Network of the Aga Khan Health Board for Canada. As volunteer opportunities arise to help support the Jamat through this crisis we will be reaching out, and as such would kindly request all registrants to update their profiles to ensure we have the most up to date information. Enter the Response Code that was emailed to you when you first registered.
As part of our ongoing commitment to support Ismaili Health Professionals, especially in the current challenging circumstances, the Aga Khan Health Board for Canada will be bringing to you all a series of informational webinars:
Coping with Burnout in the face of the global pandemic
APRIL 18, 2020 – 5:30PM PST / 8:30PM EST
Over 40% of healthcare professionals reported burnout in 2019, even before this global pandemic. As burnout and difficult emotions skyrocket amidst COVID-19, learn how mindfulness can keep you grounded - supporting the wellbeing of mind, heart, and soul - by attending IHPA Grand Rounds with Rahil Rojiani, MD. Please register online.
This webinar is being hosted by Aga Khan Health Board USA, but all Canadian Ismailis healthcare professionals are welcome to join.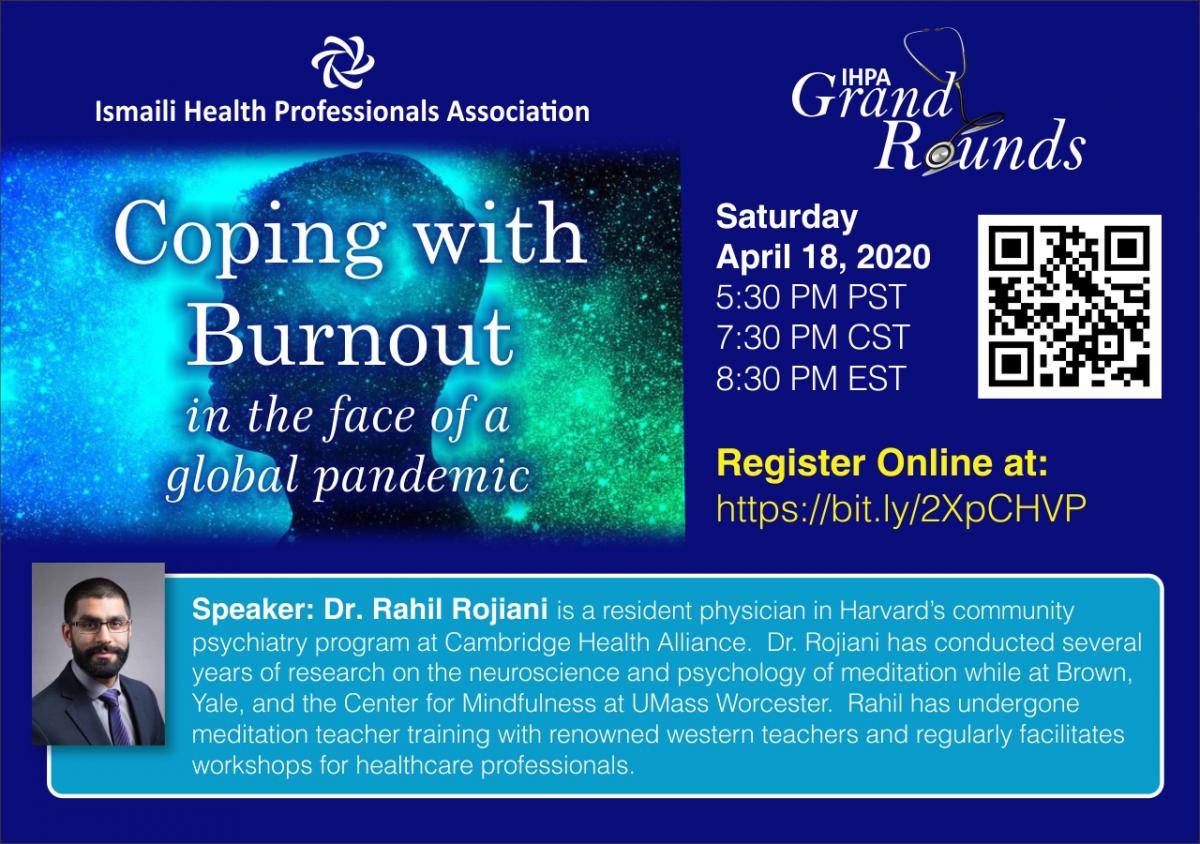 ---
The following webinars are planned, but are subject to change. We will send out more details about speakers and registration links closer to the date.
Healthcare Decision-Making Through the Lens of Ethics: Exploring Perspectives of Patients, Families, and Healthcare Providers
APRIL 28, 2020 – 5:00PM PST / 8:00PM EST
Research Initiatives to Tackle COVID-19 - Drugs, Vaccines, & Antibody Testing
MAY 12, 2020 – 5:00PM PST / 8:00PM EST
How to Build Your Resilience Reflex - Moving from Chaos to Control
MAY 26, 2020 – 5:00PM PST / 8:00PM EST