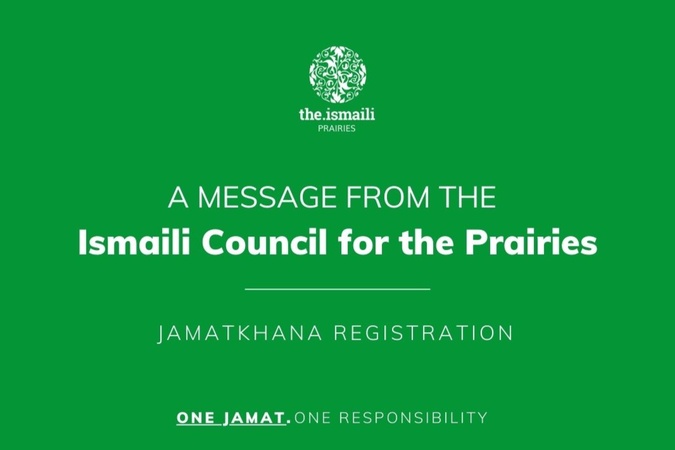 Saskatchewan Jamatkhana Attendance Update
September 28, 2021 | Prairies
In maintaining a cautious approach due to the increase in COVID-19 cases in Saskatchewan, please note the following new measures to protect the health and safety of the Jamat.
Starting Tuesday, October 5, evening Jamatkhana attendance will be allocated through the Jamatkhana Registration System.  It will be used daily to schedule evening attendance. If you have already registered to attend Jamatkhana through the Jamatkhana registration site, you do not need to take any action - the registration system will inform you once a spot becomes available. Please access the system and reference your emails for allocations and to confirm your attendance.
Morning Jamatkhana attendance does not require scheduling or allocation.
On arrival to Jamatkhana in both the morning and evening, health and safety screening will take place, and all Jamati members will be checked in using the registration system.
Given the continued risks, we urge all Jamati members to assess their individual risk prior to attending Jamatkhana, and all eligible members to get vaccinated.
Please continue to follow health and safety precautions in Jamatkhana including:
  • Maintain physical distance of 2 metres at all times from others not in your household
  • Wash your hands frequently and properly with soap and water for at least 20 seconds, or with a minimum 60% alcohol-based hand sanitizer
  • In Jamatkhana and public spaces, properly wear a well-fitting 3-layer mask that fully covers the nose and mouth
  • Stay home if you are sick, have had exposure to COVID-19, or have tested positive for COVID-19 in the last 14 days; or are eligible but are not vaccinated
We sincerely thank you for your support and understanding as we adapt to the changing circumstances during these challenging times. We pray for good health, safety, and security for the global community.